Brussels sprouts with pancetta
I made these brussels sprouts as a side dish to pierogies the other night, and it's a preparation worth keeping in mind if you enjoy pork with your sprouts.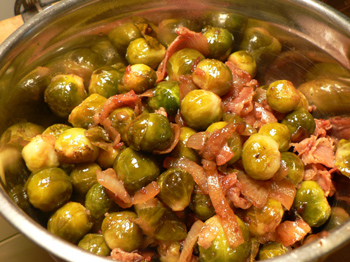 I've gotten in the unhealthy habit of buying Garden of Eden pierogies and some kind of side on my way home from happy hour with Uncle Teddy in Chelsea, because the store is on my way home and I'm usually too tipsy after two bourbons (or is that the unhealthy habit?) for anything more complicated. On one particularly fuzzy night, I got a bag of sauerkraut and, quite unexpectedly, a quarter pound of pancetta, which has since become my cured meat of choice. Fried up with the kraut and pierogies, along with some applesauce, I was in heaven.
I got the pancetta again this week, and because the sauerkraut had mysteriously disappeared, I picked up a pound of baby brussels sprouts. Bacon is so good with sprouts, and I knew that pancetta would be even better.
First I boiled the sprouts for five minutes or so and drained them well. In the meantime, I sautéed five or six thin slices of pancetta along with a sliced onion in butter. I removed the pancetta from the pan once it was cooked through and then sautéed the sprouts in the remaining fat for a good long while, about 20 minutes, deglazing from time to time with white wine. At the last minute, I put the pancetta back in and seasoned the sprouts.
Brussels sprouts are still pretty new to me; I've prepared them several different ways, but I'm still in search of a foolproof method for extreme tenderness inside a crisp, sweet exterior. These fit the bill, but they might have been better roasted, as many things are. If you know something about sprouts that I don't, please leave it in the comments!