Bread dumpling soup
After spending too much money on a pair of designer jeans in the after-Christmas sale at Bloomingdale's, peasant food was in order for dinner. I'd had Mario Batali's recipe for bread dumpling soup on the counter for weeks, waiting for a night when I had nothing in the fridge but what I needed: bread, milk, eggs, prosciutto, parmesan, and chicken stock.
While making them, I kept thinking it wasn't going to work. Nothing seemed to be holding together. I spilled my bread crumbs. I had some yolk in my egg whites. My bread seemed too wet, yet somehow not soaked. None of this mattered though, because once you roll something wet in bread crumbs, it holds together.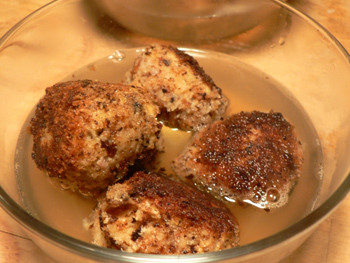 And then you have delicious dumplings for dinner. The only problem was that the thick, heavy dumplings didn't get hot in the middle, but the hot stock took care of that in the bowl.
Bread dumpling soup
Ingredients (for 4 servings)
6 cups 1/2-inch cubes day-old bread
2 cups milk
6 large eggs, 4 separated, 2 left whole
4 ounces diced prosciutto
1 1/2 cups grated parmesan
1/2 teaspoon nutmeg
1/4 cup finely chopped Italian parsley (if you have it)
1 cup bread crumbs
1/2 cup olive oil
6 cups chicken stock
In a large bowl, cover the bread with the milk and let sit for 10 minutes. Beat the yolks in another large bowl, squeeze out the bread, and add it to the yolks along with the prosciutto, 1 cup of the parmesan, the nutmeg, the whole eggs, and the parsley. Season and mix well. Roll into one-inch balls.
Beat the egg whites in a small bowl until they are frothy, and spread the bread crumbs on a plate. Roll each ball in the whites and then the crumbs, and set them on a plate. Heat the olive oil in a skillet until very hot. Brown the balls all over (make sure they are in there long enough to heat through), and transfer them to a paper towel–lined plate.
Divide the dumplings between four bowls, pour over the stock, sprinkle on the remaining cheese, and serve.