Braised cabbage with bacon and apples
The new Jamie Oliver book is full of the kind of dishes that get stuck in my mind until I have a chance to make them. Pasta with slow-cooked duck, cheesy peas, gorgonzola-apple risotto…I see the titles and pictures, and the dishes stay in the back of my mind, ready for my next shopping list. One of the first dishes to really capture my imagination is what Jamie calls "Must-try cabbage braised with apple, bacon and balsamic vinegar." In other words, all of my favorite flavors together.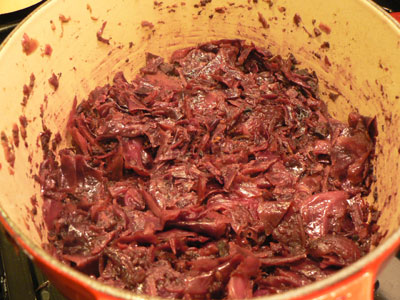 The recipe is easy and involves little work. It's a long-cooker though. Jamie tells you to let it cook for an hour, but I'm still cooking mine two hours later, and it's getting more delicious each time I taste it (we ate dinner an hour ago out of sheer starvation, and it was perfectly enjoyable, but next time I'll start much earlier). Here's what you'll need:
olive oil
1/2 pound bacon, sliced
1 tablespoon fennel seeds, crushed
1 onion, sliced
2 apples, peeled and cut into chunks
1 red cabbage, outer leaves removed, cut into smallish chunks
3/4 cup balsamic vinegar
Cook the bacon and fennel in some olive oil until the bacon starts to crisp. Add the onion and let it soften. Add the apple, cabbage, and vinegar. Season well, cover, and cook for as long as possible, but at least an hour. The more you cook it, the softer and stickier and sweeter it becomes. It can handle plenty of salt, so don't be shy. The thinner the cabbage, the faster it will taste good.
I served this with rye toast and little slices of ham I had around, and it was an excellent meal for a chilly night in. He tells you to put a knob of butter and some chopped parsley on top to serve, but why soften the vinegary flavor with a bunch of unnecessary fat? Why mask it with useless greenery? This dish is excellent unadorned.