Boiling vortex eggs with wild salmon caviar
After a horrendous non-travel experience last night, or travel non-experience, I decided to make eggs with caviar at 1 am to make us feel better about life.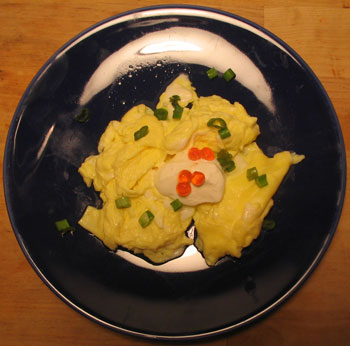 It worked. Stressful situations like this one always call for something good to eat. We had spent the whole night on edge because of Delta's lack of organization. The flight to Atlanta was originally at 9 pm, then it was 9:30, then it was 9:55, then it was 10:30, then 11, then they told us there was no co-pilot and the time went to 12:50 am. Nathan's poor parents were up way past their bedtime for nothing. After the first delay, I asked them to put us on the 6 am flight on Saturday, which they would only do for $50 per ticket. They were happy to switch the ticket for free after the final delay, but they would not put us in a hotel or provide a car service. So I demanded a refund, and we went right home and bought tickets on American for a few weeks from now.
Delta sucks. If my mom were there, she would have said to the agent: "Poor planning on your part does not necessarily constitute a crisis on my part."