Blueberry-yogurt muffins
Let's all send our hearts out to my poor mother who, despite her svelte figure, insists on participating in Weight Watchers. I'm rooting for her, but she's already the hottest mom I know, and she should be able to cook and eat as she pleases. Good luck, Mommy!
I promise to stop with this Mark Bittman stuff after this post, and to move on to something more interesting and advanced. In the meantime, I made my first muffins.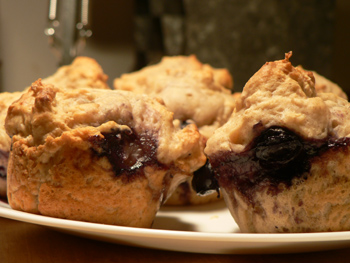 Maybe these look sloppy, but I think they're rustic and beautiful. Are you supposed to shape muffins in the tin at all? I just slopped them in there, hoping for irregularity. Muffins are easy! Very few ingredients, and hardly any work before baking. I found these to be salty, but I think it was partly my own fault. Mark says he doesn't enjoy sweet muffins, though, so next time I'll increase the sugar (and this is coming from me, sugar's worst enemy).
The following recipe is a mashup of his basic muffins, blueberry muffins, and yogurt muffins. Basically, I incorporated two variations at the same time. I tried searching for "Mark Bittman muffins," and I could only find an old post from Eat!
Ingredients
1 tablespoon melted butter
2 cups all-purpose flour
1/2 cup sugar
1/2 teaspoon salt
1 teaspoon baking powder
1 teaspoon cinnamon
1/2 teaspoon baking soda
1 egg
1.25 cups yogurt or sour cream (I used Wedneday's favorite)
Lemon zest (optional)
1 cup frozen blueberries
Preheat the oven to 400ºF and grease a 12-cup muffin tin. Mix the dry ingredients in a bowl. Beat the egg, milk, and butter together. Make a well in the dry ingredients and fold in the wet until the mixture is moist but still lumpy. Add extra milk/yogurt/sour cream if necessary. Fold in a bit of lemon zest and then the blueberries at the last minute.
Fill the muffin compartments 2/3 full, handling the batter as little as possible. Put a bit of water into any unused compartments, and bake for about 30 minutes, until they are nicely browned and a toothpick comes out clean. Let rest 5 minutes, and serve warm.
Since these were salty, I served them (to myself) slathered with apple butter, which was a happy combination.
In other baking news, I just had a third round with Nigella's dense chocolate cake, and it's as delicious and simple as ever. If you enjoy dense, barely sweet chocolate cake, it's worth making.