Blueberry-peach pie
A visit from my little brother Calvin and his girlfriend, coinciding with a wonderful bounty of produce at the Borough Hall farmers' market, prompted me to spend a few hours yesterday making a blueberry-peach pie. I used a recipe from a booked called Bubby's Homemade Pies, which I'm not even sure how I got. The book seems to have a recipe for every sweet and savory pie you can imagine, and sure enough it had just what I was looking for. One of the authors, Ron Silver, claims that his Bubby's Pie Company in New York is a "downtown institution," although I've never heard of it. Either way, I give the thumbs-up to this recipe, the first I've tried from his book.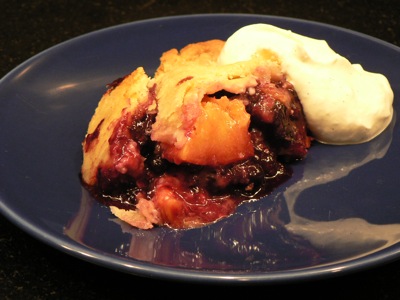 That's kind of a messy slice, but it's the best I could do out of my deep pie dish. The filling was excellent: jammy, tart, and substantial. The bottom crust would have benefited from five additional minutes in the oven, but I blame my pie dish for that. I served the pie with some softly whipped cream flecked with fresh vanilla.
Blueberry-peach pie

Pastry for a 9-inch double-crust pie
1.5 pounds peaches, peeled and cut in sixths
2 cups blueberries
3/4 cup light brown sugar
1/4 cup all-purpose flour
Zest of 1 lemon
Juice of 1/2 lemon
1/2 teaspoon vanilla extract
Pinch of salt
3 tablespoons cold unsalted butter, cubed
Sugar
(Note: for the dough, I used Alice Waters's proportions: 2 cups flour, 1/2 teaspoon salt, 12 tablespoons butter, 1/2 cup ice water.)

Roll out the dough, line the pie pan with the bottom layer, and chill it all in the refrigerator. In a large bowl, gently combine the peaches, blueberries, sugar, flour, lemon zest and juice, vanilla, and salt. Try not to crush the blueberries. Put the filling into the shell and scatter the butter cubes over it. Cover with the second sheet of dough, and chill for 10 minutes in the freezer. Meanwhile, preheat the oven to 450ºF.

Make a few slits in the crust, and sprinkle the top with sugar. Bake for 10 minutes, until the crust starts to color. Turn down the oven to 375ºF and bake for about 45 minutes more, until the filling is bubbly and the crust is well browned. Cool completely before serving.