Best dinner ever
Word is out on the street that I fry up a delicious Mrs. T's pierogie, and tonight was no exception. In fact, there was consensus at the table that tonight's interpretation was the best yet, and I've tried them every way from broiling under blue cheese to braising with olives and herbs. This week, I had a quarter pound of accidentally ordered domestic prosciutto to get through; what better way to use it up than to wrap up pierogies and hunks of cheddar cheese and to serve them with a scoop of caramelized onions?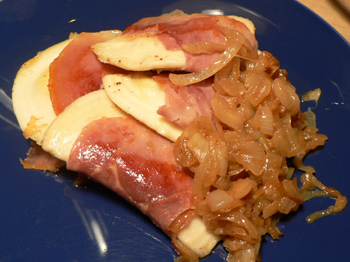 Tramps on horseback
1 box Mrs. T's cheddar cheese pierogies (of course fresh would be better, but this meal is still somewhat trashy)
4 onions, halved and sliced thinly
3 tablespoons butter
1 teaspoon brown sugar
3 tablespoons olive oil
About 1/4 pound cheddar cheese, cut into thin slices half the length of a pierogie
1/4 pound domestic (i.e., cheap) prosciutto, cut into long, thin slices
Put the frozen pierogies in a bowl and cover them with warm water while you prepare the onions. Melt the butter and add the sugar. Add the onions, salt them well, and cook over medium heat until they begin to brown. Lower the heat and cook for about 25 minutes, until they are dark brown and very sweet. (I just read about using brown sugar for onions in an old issue of Cook's Illustrated, and it works wonders. The onions soften and sweeten way before they reduce to nothing.)
As the onions cook, drain and dry the pierogies, and season them. Heat the olive oil until very hot in a large skillet, and brown the pierogies quickly on both sides. Wrap them up individually with a slice of cheddar in a slice of ham (an herb such as sage would be nice if you have it), and sauté them again until the ham turns crispy. Serve with the onions for a sweet and salty meal of contrasting textures.