Ballpark food, again
Another depressing loss for our Pirates, another chance to eat food at the ballyard. Tonight I tried one of the new offerings at PNC Park, a panino. I asked the lady behind the counter what was on it and she replied, "Italian meats and cheeses." It seemed to have peperoni, salami, and maybe provolone or mozzarella cheese on the inside; the outside was quite oily and sprinkled with dried Italian seasoning (a big piece of which was lodged between my front teeth throughout the evening, unbeknownst to me until I got home).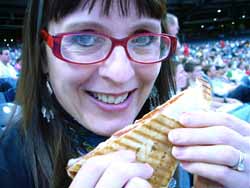 The overall flavor was greasy and salty and I didn't much like it. I gave most of it to Poppy and had a cup of coffee and some of those cinnamon-roasted almonds later; I really love them.