Bacon-thyme tenderloin
Everything that comes out of my kitchen these days smells like bacon and thyme. I can't seem to keep these ingredients out of the fridge, as I find the flavor combination irresistible and addictive. I go through phases like this a few times a year, usually as a result of overbuying certain ingredients and running out of others: garlic and rosemary, lemon and cumin, prosciutto and sage.This one will eventually pass, and I hope it's soon, because eating bacon more than once a week may not be wise.
For the time being, though, here is my pork tenderloin stuffed with you know what: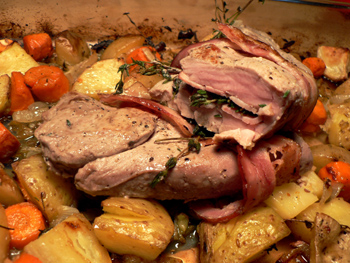 This was delicious and extremely easy. I tossed potatoes, carrots, and onions with olive oil and seasonings, and I put them in the oven to roast at 375º. While those were getting started, I cut open my tenderloin, stuffed it with two slices of bacon and a bunch of thyme sprigs, and then wrapped the package with two more strips of bacon to hold it all together. I seared it in olive oil and then roasted it with the vegetables for about 45 minutes. It came out perfectly medium rare and full of those flavors I can't stop craving.