At last, cookies
I decided long ago that I wanted to produce excellent chocolate chip cookies, and the helpful advice poured in. Wednesday pointed me to a recipe at Wordstoeatby, and I gave that a try in the middle of winter. I was pleased with the result, but I tried twice since then and failed completely both times.
There were several problems with these attempts:
I was halving the recipe because I had just one baking sheet. Mom told me that wasn't necessary, and that I could just bake the cookies in two batches.
I didn't have the right equipment. It's hard to mix cookie dough with no stand or hand mixer. I also had really hard brown sugar, since this was in the dark days before I bought a brown-sugar saver. Poor Nathan would slave away with a wooden spoon trying to cream rock-hard sugar with cold, cubed butter.
I didn't know the difference between "t" and "T" in an ingredient list. Mom, how did this happen? How did I grow up where I grew up, and now work where I work, without knowing this? Nathan thought it was common knowledge. So I may have used a tablespoon of baking soda instead of a teaspoon the last time I tried.
It's so much easier to make something when you have everything you need. I'm still lacking a second baking sheet, a cooling rack, and a cookie scoop, but I made do this morning, and these cookies are better than ever.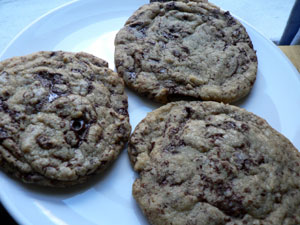 It can be hard to live by recipes when you have a kitchen as small as ours. There is no room for a stand mixer, no room for almond flour, no huge cabinets into which I can put a waffle iron and a couscoussière, no basement for an ice cream maker. I have a few drawers and a few shelves, and I try not to waste one square inch of them. If I don't use it, I put it in the hall or throw it away.
I opened Martha Stewart's new baking book last night, looking for a recipe in which to use the eight ounces of Valrhona bittersweet I picked up. Every recipe in there asked for some ingredient or piece of equipment I don't have. I suppose if you bake all the time, you just have these things and find space for them. But I bake less often than once a month, and this isn't likely to change. I wish more recipes would say, "Ok, if you don't have this, use this. If you don't have this size dish, change the recipe in this way and use this size." With savory dishes like stews, it's so much easier to make substitutions; as long as you have water, salt, and fat, you can fudge it. Not so with baking, at least as far as I can tell with my dearth of experience.