Appliance adventures, part 2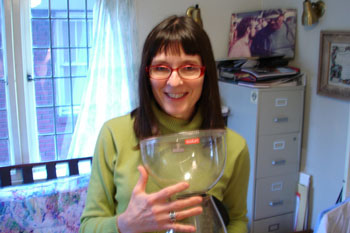 I have been a caffeine addict since long before Leland was born, and have brewed coffee in all manner of coffee makers, from the pyrex percolators of my youth, through the hour-glass shaped Chemex of my hippie days, to my current favorite, the Bodum Santos. Along the way there have been detours into French presses and various versions of Mr. Coffee and his ilk, along with the tried and true Melitta.
And although I love the Santos for its unique look and vacuum brewing method, as well as the great cup of coffee it makes, I'm annoyed that its lid broke so soon after I got it. I think a hundred dollar appliance should be sturdier. I was going to order a replacement lid until I noticed that the little plastic tabs that you snap the lid into seem to have gotten mashed over onto their sides. When I tried to straighten them out one of them snapped off, so there goes that plan. Now I would have to replace the whole pot. And this morning for the first time I actually brewed a pot without snapping the little filter in. Have you ever done that, Leland? It makes a God-awful mess! You get a volcanic eruption of hot coffee and grounds all over your counter, and they seem to have worked their way into the electrical innards of the bottom of the pot. Let's hope I didn't cause permanent damage.