Apple risotto
Looking through the famous Silver Spoon cookbook this afternoon, I happened upon a bizarre recipe for apple risotto. I'm attracted to any meal prepared with fruit, especially apples or pears, so I copied the recipe and started planning my shopping. I had everything except the second apple, so it was pretty easy.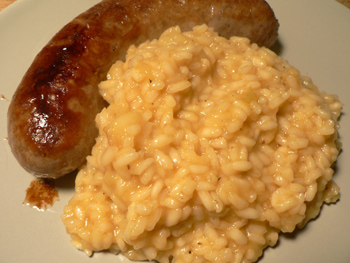 Served with sweet Italian sausage and apple sauce, this made a delicious meal, but I can't say that I was blown away by the risotto. If I make it again, I'll make a few small changes. The recipe has the rice cooked in olive oil, when butter would probably be better. Also, it has you add the parboiled and sautéed apples earlier than halfway through the cooking, when their flavor and texture would be better if they were added at the very end of cooking. Finally, five tablespoons of wine doesn't seem to be enough. I like more white wine flavor in risotto, and I generally use between 3/4 and 1 cup.
Having little sweet bites in the midst of all that butter and cheese and Worcestershire sauce is interesting and pleasing, and I wonder how the dish would taste with blue cheese instead of parmesan. I may try the dish again with these modifications in mind.
Apple risotto (serves 4)
thinly pared strip of lemon rind
2 apples, peeled and diced
3 tablespoons butter
about 6 cups vegetable stock
2 tablespoons olive oil
2 cups risotto rice
5 tablespoons dry white wine
2 tablespoons, parmesan cheese
1 tablespoon Worcestershire sauce
Parboil the lemon rind and apples for 4-5 minutes. Drain well, discard the lemon rind, and pat the apples dry with paper towels.
Melt 1 tablespoon of the butter in a skillet over high heat, add the apples, and cook, stirring frequently, for 5 minutes. Meanwhile, bring the stock to a boil.
Heat the olive oil in another pan, stir in the rice and cook, stirring, until the grains are coated in oil. Sprinkle in the wine and cook until it has evaporated.
Add a ladleful of the hot stock and cook, stirring, until it has been absorbed. Continue adding the stock, a ladleful at a time, and stirring until each addition has been absorbed. This will take 18-20 minutes. After about 6 minutes of the cooking time, add the apples.
When the rice is almost tender, stir in the parmesan, Worcestershire, and remaining butter and season with salt and pepper to taste.