Apple pie saves the day
I had guests for dinner tonight and served them a terribly disappointing meal; the spareribs were tough, the sweet potatoes were underdone and had to be finished off in the microwave, and I even overcooked the green beans a little bit. In fact, I'm beginning to wonder about my new oven, because those ribs and potatoes really should have been tender in the amount of time they spent baking. I need to get an oven thermometer and check the temperature for accuracy.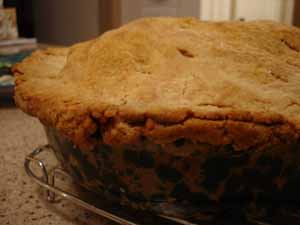 Fortunately I was able to redeem myself with a luscious apple pie, the first one of fall. I was a little worried that the apples might not be cooked enough after eating the rest of the dinner, especially because it was such a big pie, but I used Macintosh apples and they get soft more readily than other varieties. Some people like the apples in their pie to keep their shape and even stay a little crunchy but I am not one of them. I like them to become meltingly tender and almost turn into applesauce. I really hate biting into a slice of pie and having the apples offer resistance to my teeth. I bought the apples at McGinnis Sisters yesterday; they were from a local orchard and had a divine flavor, winey and tart.