Amanda Hesser's Lemon Chicken
Let's all thank Wednesday Chef for sharing Amanda Hesser's excellent recipe for lemon chicken. I made it because she described it as "the dish that made [my boyfriend] look up from his plate a few days ago and proclaim firmly that this was the best thing I'd ever cooked for him." What is it about lemon chicken that drives men crazy? Nathan's little head almost exploded from all the crème fraîche goodness.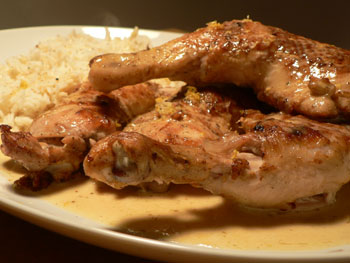 There's nothing to this recipe. It seems the key is to brown and season the chicken extremely well, and to use enough real crème fraîche and fresh lemon juice. It's easy, it's cheap, and it's delicious.