A springtime dessert
To (mis)quote a high school classmate of my husband's, "Springtime is here, isn't it dandy; let's turn on the set and watch Amos and Andy."
I'm going to make a confession here before God and all you people and tell everyone before we go any further that summer is not my season; I am a cold-weather girl. Even before Mother Nature started giving me hot flashes I did not handle the heat well. We do not have air-conditioning in our house, and it may surprise some folks to hear that it gets hot in Pittsburgh. My kitchen windows face southwest, so the sun is streaming into them just when I begin to cook dinner.
I don't think I will ever forget the day, 2 summers ago when Calvin wanted fried chicken, corn on the cob, green beans, and linguine with pesto for his birthday dinner on July 24, in addition to an apple pie. I was cooking in my bare feet that day and my feet looked like red water balloons by the time we sat down at the dinner table, all hot and swollen.
Anyway, today was comparatively cool, and rainy, and I made a wonderful rhubarb crisp for dessert. The key to a really crisp topping is to melt the butter before mixing with the other topping ingredients. I used whole wheat flour here, both in the topping and mixed with the rhubarb and it was undetectable (my whole grains initiative continues). I put some of my wonderful Watkins vanilla in the topping. If you haven't tried Watkins vanilla extract yet you really should; it's so delicious. You can order it online and I just heard that Target is starting to carry it, although I haven't seen it there yet. The crisp was a tiny bit on the tart side, the way we like it, and I served it slightly warm with scoops of vanilla ice cream.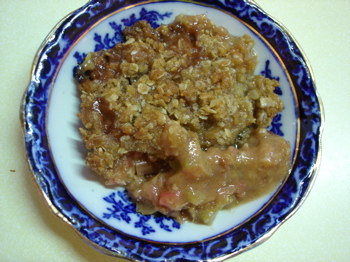 Makes 8 servings
8 cups rhubarb, sliced
1 cup light brown sugar
4 tablespoons melted butter
1/3 cup flour
1 teaspoon cinnamon
Topping:
3/4 cup flour
1 1/2 cups quick oat meal
1 1/2 cups light brown sugar
3/4 cup melted butter
1 teaspoon vanilla
Preheat oven to 400 degrees. In a mixing bowl, combine rhubarb, brown sugar, butter, flour and cinnamon. Spoon into a buttered 9X12" casserole dish.
For topping: Combine the topping ingredients in a bowl. Sprinkle evenly over rhubarb mixture. Bake for 30 to 40 minutes. Test center to make sure rhubarb is cooked.