A chocolate confession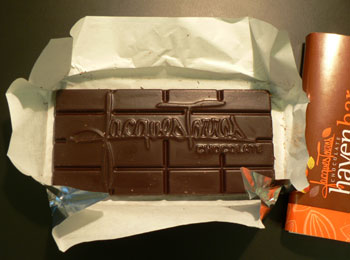 I'm deep in a love affair with a particular bar of expensive chocolate: Jacques Torres' House Blend, a 60% dark chocolate bar that has a permanent place in my desk, which I nibble at slowly day after day. Is $4 too much for a Hershey-sized bar of chocolate? I feel bad when I buy it, but the price comparison is meaningless, because one bar is good and the other is horrible.
Jacques Torres chocolate is sweeter than many of his competitors, which generally turns me off. But something about it is so edible. A lot of darker chocolates have weird fruit or dirt flavors that I can enjoy in a very tiny morsel, but I can never get through an entire bar. This chocolate is meant to be bitten into and eaten. My habit is currently taking me through about one bar per week (which, in all fairness, is not much, just one or two squares a day to satisfy the craving). I feel like I'm winning the Willy Wonka contest every time I open a bar and see that gorgeous inscription.
Torres' chocolate bunnies are also delicious and adorable, both the milk and dark varieties. You can buy them at Whole Foods in New York, including one that is two feet tall and nearly $100.