Morels
Melissa Clark's morel piece ($) last month got me all hot to buy some fresh morels, but at the usual New York price of $60 a pound, it wasn't happening. Then one day I heard some French chefs talking about how cheap the morels were at the Manhattan Fruit Exchange in the Chelsea Market, so I made a trip. And there they were for $19.50 per pound.
Still, though, I was dainty, and bought just enough to make about a quarter of Clark's recipe, just as an appetizer.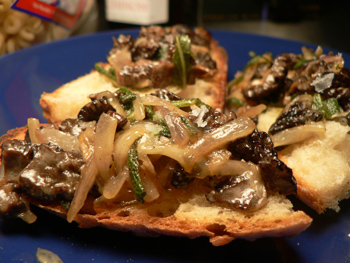 I heard one of the chefs say, "l'échalote et la sauge avec les morilles…c'est un bon mariage." With that in mind, I swapped her chives for sage. I won't reprint the recipe, because you don't need exact amounts or instructions. You sauté some chopped shallots in butter for a few minutes. Add as many morels as you have, sliced in half, and cook for another five minutes. Add a couple tablespoons of wine, cover, and cook another five minutes to soften the mushrooms. Uncover and let the liquid evaporate, stir in a bit of heavy cream, season, and let thicken for two minutes. Serve on buttered toast, sprinkled with chopped chives (or sage) and flaky salt.
I went back to the Fruit Exchange the following weekend and bought about a big bag of morels, and I fulfilled my fantasy of making a morel tart!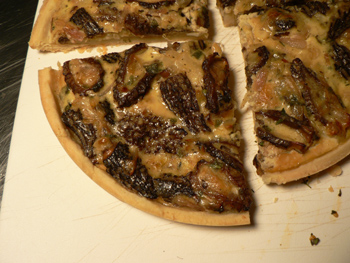 What could be more decadent? I flavored it with shallots and sage again, but otherwise used a basic custard (one egg plus equal parts milk and cream). I also added a few tablespoons of fromage blanc, but I wouldn't do that again. I hadn't cooked with fromage blanc before, and it really makes things quite thick. I wanted to taste morels suspended in a light custard, not a cheesy pie.
For this tart and every other tart I've made in the last month, I've used the same crust. I think I've finally found my foolproof formula for pâte brisée: 1.5 cups flour, 1 teaspoon salt, 7 tablespoons butter, and 4 tablespoons water. It comes together easily every time (even by hand), and it cooks up tender and flaky. I'll try it out on Mom when she comes to visit (for a week!) in August.