Mom cooks for Calvin and friends
Calvin attended his senior prom the other night, and instead of eating the buffet provided at the dance or going out to a restaurant beforehand, he asked me if I would cook dinner here at the house for him and several of his friends, including his date. I was surprised and touched – surprised because when I was his age I couldn't bear to be anywhere in the vicinity of my parents, let alone bring any of my friends voluntarily into their orbit, and touched by his faith in my cooking. But this seems to be a cleaner-living generation; Calvin spends a lot of time hanging around the house and actually seems to like our company.
He and I pondered the menu and this is what we came up with: Grilled pork tenderloin, served with homemade pineapple salsa, couscous, tossed salad, and for dessert I made chocolate waffles topped with vanilla ice cream and sliced strawberries. Everything came out great except the couscous, which I had tried to make a new way, according to directions I read on another blog. I had been seduced by the description of how light and fluffy the couscous would turn out using this method, rather than just throwing it into hot chicken stock the way I usually do, and all I can say is that I must have done something wrong because it was as dry as sawdust and very disappointing. In fact, I have probably ensured that several teenagers will never eat couscous again as long as they live. Perhaps couscous steamed like this is best as a base for stews rather than on its own as a side dish.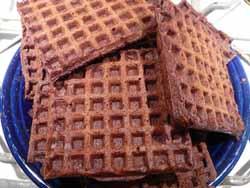 I was particularly pleased with the waffles, and so were the kids. I just adapted the recipe for buttermilk waffles in my Fanny Farmer cookbook and they were delicious. The only tricky part was determining when they were done, since they were already brown I couldn't look at color and had to put my finger on them to see how crisp they were getting. Waffles take a lot longer to bake than pancakes, unless it's my waffle iron, but you want them nice and crisp.
The young people also liked the salsa quite well, and I'm giving the recipe for both the salsa and the waffles. I've served this salsa with grilled chicken as well as grilled pork and it's just delicious; everyone loves it. Calvin and his friends were a delight to entertain; they cleared the table themselves and before they left for the dance they all thanked me and said it was a wonderful prom dinner. They were also quite patient about posing for photographs, another contrast to myself as a teenager. Mom – if you're reading this, sorry for the bad attitude and ruined family photos!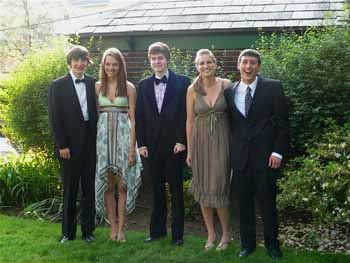 Calvin is on the right – don't they look great?
Pineapple Salsa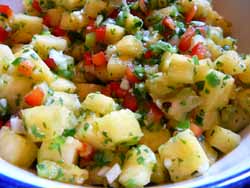 1/2 pineapple, peeled, cored, and diced
zest and juice of 1 lime
1/2 bunch scallions or green onions, washed, trimmed, thinly sliced, including most of green part
1/2 red pepper, finely diced
1 or 3 minced jalapeno peppers
1/4 cup minced fresh cilantro, stems and all
3 large cloves garlic, minced, or more to taste
1 teaspoon salt, or to taste
Put all ingredients except cilantro in large bowl and fold together with rubber spatula. Let sit for flavors to mingle for about an hour; add fresh herb shortly before serving and stir gently with spatula. The acid in the other ingredients will discolor the cilantro which is why you don't want to add it too soon. You could add some other tropical fruits to this, like mango or papaya. If it's not tart enough add more lime or lemon juice.
Buttermilk Waffles from Fanny Farmer cookbook, 1990 edition
1 1/2 cups all-purpose flour
2 teaspoons baking powder
3/4 teaspoon baking soda
1/2 teaspoon salt
2 tablespoons sugar
3 eggs
1 1/2 cups buttermilk
3/4 cup melted butter
Put the flour into a medium mixing bowl and add the remaining dry ingredients. Stir with a fork or whisk to blend. Into a larger mixing bowl, beat the eggs until well-blended. Stir in the buttermilk and the melted butter (slightly cooled). Add the flour mixture to the liquid mixture and blend. Bake in a hot waffle iron until crisp and golden. Serve hot.
For chocolate waffles: Decrease flour to 1 1/4 cups and add 1/4 cup unsweetened cocoa powder with dry ingredients. Increase sugar to 1/3 cup. Melt 2 oz. semi-sweet chocolate with the butter and blend with the wet ingredients. Add 1 teaspoon vanilla extract. Serve warm with ice cream and/or fruit or fudge sauce.