Mom makes curried noodles
My usual routine when I get a new cookbook is to take it to my bedroom for awhile and read it at night, mentally bookmarking certain recipes to try in the future and hoping to remember that others are in there should the ingredients ever find their way into my kitchen. Then I lost my mind and none of these mental bookmarks or hopes for great uses of esoteric ingredients came to pass. I don't own 101 Cookbooks but I do have a large bookcase full and maybe that has something to do with it. It can be so frustrating to know I've got a terrific recipe using, say, smoked turkey, (why did I buy that huge smoked turkey leg recently, anyway?) and then to spend four hours combing through cookbooks trying to find it.
One of my regular Wednesday night dinner guests is still dealing with a broken jaw (from a kick in tae-kwan-do class) so I've been challenged the past few weeks to prepare foods that taste good but don't require much chewing. I've already made a risotto and last week I made Ruth Reichl's macaroni and cheese , so this week I wanted to try something a little different. I found it in Mark Bittman's How to Cook Everything cookbook, which I've had on the shelf since the year it came out, 1998, but probably not made more than a dozen dishes from. I use it as a reference, and there are a few recipes I need it for, like the banana bread, but other than that I've just completely forgotten about it. These curried noodles are exactly the kind of thing we like; they are spicy and satisfying.
One note about the pan; Bittman calls for either a wok or a large deep non-stick skillet. Oh, now I see; I read that wrong. I thought it said the opposite for some reason. See, I've lost my mind! Because at a certain point in the recipe you have to fry the noodles, and in my non-non-stick skillet the noodles immediately stuck to the bottom of the pan and formed a thick, glutinous, pasty crust; effectively preventing any browning of the noodles. A non-stick skillet might have kept that from happening.
Curried Rice Noodles with Vegetables and Ground Beef, adapted from Mark Bittman's How to Cook Everything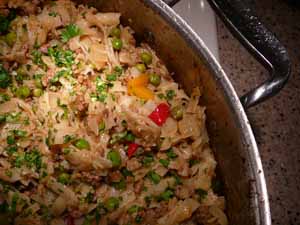 12 ounces thick or thin rice noodles (mine said "rice sticks")
4 tablespoons peanut oil
1 tablespoon minced garlic
2 teaspoons peeled and minced fresh ginger
1 cup roughly chopped onion
1/2 cup chopped red or yellow pepper
1/2 cup trimmed snow peas or defrosted green peas
1/2 pound ground beef
2 tablespoons curry powder (I used 1 tablespoon hot and 1 regular)
1 teaspoon sugar
1/2 cup chicken stock
2 tablespoons soy sauce or fish sauce (I used soy sauce and lime juice)
salt, if necessary
minced fresh cilantro for garnish
1. Soak noodles in very hot water to cover while preparing other ingredients.
2. Heat half the oil in wok or large non-stick skillet, over medium-high heat. Add garlic and ginger and stir for 10 seconds; add the onion and cook over high heat, stirring, until it begins to soften, 2-3 minutes. Add the pepper and cook, stirring, for another 2 minutes. Add the peas and cook 1 minute, stirring. Add the beef and cook until the meat loses all traces of pink, breaking up large chunks.
3. Turn the heat to medium and sprinkle the vegetables and meat with the curry powder; stir well, then add sugar and stir again. Remove mixture and set aside.
4. Using the same skillet heat the remaining oil over high heat for about a minute; add the drained noodles and cook, stirring and separating almost constantly, until heated through and beginning to brown, about 5 minutes. Add the vegetable/meat mixture and stock and cook, stirring, until well combined. Add the soy or fish sauce, stir and cook for 30 seconds more, and turn off the heat. Taste and add more soy or fish sauce or some salt if necessary, garnish, and serve.