Mushroom pudding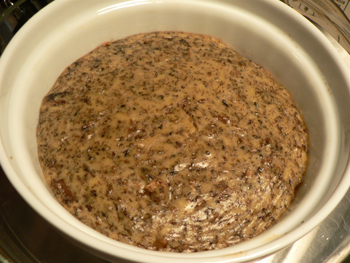 I know everyone is tired of hearing about these peasant vegetable dishes, but I wouldn't post about them if they weren't worth making. There are several other puddings, custards, and loaves I have up my Richard Olney sleeve, and I expect each one to be as delicious as the mushroom pudding I prepared last night. If you enjoy intense mushroominess, as I finally do as an adult, this is worth making. If I make it again, I may double all of the ingredients. The four of us polished it off quickly.
I believe that most people who read Eat are rather advanced cooks, but just in case anyone is confused about the water bath, don't let it put you off the recipe. All you need is a dish that fits inside another dish; I used a soufflé dish inside a casserole. As long as water is surrounding the pudding, it will work. For all I know it would work without the water bath, but you might as well do it. I like to actually put the dish in the oven and then pour hot or boiling water into the bigger dish, thereby eliminating danger of spillage. (Martha Stewart fills the water bath on the counter, and she says the best way to avoid spilling such a thing is to look at where you're going instead of at what you're carrying.)
Pudding aux champignons
The mushrooms
10 ounces mushrooms
2 tablespoons butter
Salt
2 eggs
The béchamel
1.5 tablespoons butter
3 tablespoons flour
1/2 cup milk
1/3 cup heavy cream
Seasonings
Chop the mushrooms finely and toss them, salted, in butter, over a high flame until they give up their moisture. They should look pretty dry but not burn.
For the béchamel: Melt the butter in a heavy saucepan, stir in the flour, and cook for less than a minute over low heat. Begin to add the milk very slowly, stirring well to avoid lumps. Once the milk is added, mix in the cream. As soon as it boils, turn off the heat and season it with salt, pepper, and nutmeg if you have it.
Let the béchamel cool for a few minutes, and then stir the mushrooms into it. Beat in the eggs, and pour the mixture into a fairly deep, buttered dish. Cook in a water bath (2/3 submerged in water) at 400ºF for 30 minutes, or until the center is set.