Pork chops and apples in mustard sauce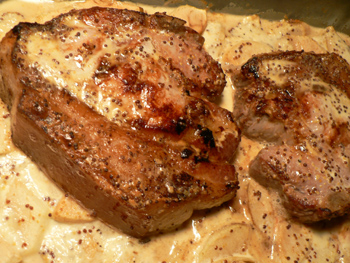 Recipes involving pork, apples, cream, and mustard jump out at me from any book, especially Richard Olney's book. When I see a dish called "Pork chops and apples in mustard sauce," I roll up my sleeves. This is an excellent and simple little dinner, and you can do it in just over thirty minutes, including the prep work.
I bought my pork chops at the Union Square Greenmarket, a mistake I'll never make again. The guy rang up four pork chops—at $31. I gasped, and decided to only make two. He helpfully told me that I could use a credit card if I didn't have enough cash, and I replied that I couldn't afford his meat. And I know we all lament the loss of fat in pork, but this pork was so fatty that there was hardly any meat on it. For $17, I think we got about ten good bites of pork. Greenmarket meat is overpriced bullshit. (That's my first curse word on Eat, so I must be serious. Barletta told me a story of paying $20 for two chicken thighs at the Greenmarket. They can keep it!)
Anyway. The next time I make this dish, it will be with pork sausages, because that will be equally delicious on top of these amazingly creamy and mustardy apples. I may even flambé them with calvados, since I finally learned how to do that in class tonight. But the dish is worth making as it is, and your guests will be more interested in what's underneath the meat than the meat itself. Serve it with plenty of cold white wine. Our friend the painter brought a sweet German riesling that was perfect.
2 pounds apples, quartered, peeled, sliced thinly
1 tablespoon butter
4 pork loin chops about 3/4 inch thick
1/4 cup dry white wine
1 cup heavy cream
1/3 cup Dijon mustard, or to taste
Butter a gratin dish (big enough for the chops), spread the apples in it, and bake at 400ºF for 15 minutes. During that time, brown the chops well on both sides in the butter. (Let the pan get very hot, and then let the butter get very hot. Don't touch the pork for at least three minutes, or you'll screw up the browning.)
Arrange the chops on top of the apples, and deglaze the pan with the wine. Reduce the wine by half while scraping up the browned bits, and dribble this liquid over the chops.
Mix the cream and mustard, adding as much mustard as is needed to please your palate. Season it lightly with salt and pepper, and pour it over the chops and apples, shaking the dish so the cream penetrates the apples. Bake for another 15 minutes.