Martha's chocolate chip cookies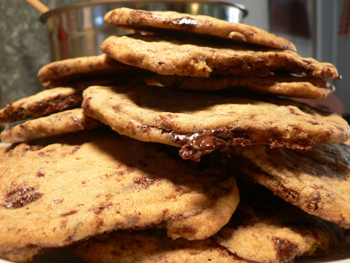 Martha's baking book and I are getting along very well these days. I have yet to be disappointed or confused over a recipe, and everything has been delicious. I'm always nervous about chocolate chip cookies, because I don't understand all the mechanics and ingredients, and I'm afraid something will go wrong (and I'm sad when cookies aren't good). Martha's recipe is pretty different from my standard, and there's no refrigeration of the dough, which many people told me is important. I was on the verge of chilling it, but I decided to obey the Martha.
I don't know what refrigeration would have done, but these are excellent, chewy, salty cookies, and very easy to make.
2 cups a-p flour
1 teaspoon baking soda
1 teaspoon salt
2 sticks room temperature unsalted butter
1 cup sugar
1/2 cup packed dark-brown sugar
2 teaspoons vanilla extract
1 large whole egg, plus 1 large egg white
12 ounces semisweet chocolate chunks (about 2 cups)
Preheat to 375ºF. Line two baking sheets with parchment paper. Whisk the flour, soda, and salt. Beat the butter and sugars in a tabletop mixer (I used a hand mixer) until light and fluffy.
Add the vanilla and eggs, and beat on low speed until well combined. Add the flour in two batches, and mix until just combined. Mix in the chocolate.
Shape 2 heaping tablespoons of dough at a time into balls and place them 1.5 inches apart on the baking sheets. Bake for 18 minutes or until golden brown, rotating the sheets halfway through. (Mom: I did what you told me and baked them in two batches, since I still only have one baking sheet. Parchment paper makes this easy!)
Serve with plenty of cold milk!