Mom makes lazy daisy cake
I haven't made this cake in years, but I grew up on it, back in the days when housewives served desserts after every dinner. And I'm not talking about a couple of cookies on a plate, either. Dessert was something that we ate with a spoon or a dessert fork, and at least one purpose it served was to teach my sister and me where to put the dessert fork when we were setting the table, and all three of us children what silverware to use and when ("Use your silverware from the outside in, kids!").
Lazy daisy cake is what they call a "hot milk cake" and can be mixed up and in the oven in about ten minutes. My mother made it several times a month and we all liked it, even though we're not big coconut fans. Something about broiling the topping transforms the coconut and makes it less coconutty, somehow. But speaking of the topping, although it's quick and easy, it must be watched carefully once you put it under the broiler as it only takes a minute or two to achieve the desired toastiness. I heard lots of colorful language from the kitchen since Mom often passed that minute between toasted and burnt. "Hell's bells!" and "Damnation!" drifted upstairs where Suzie and I were in our room playing with our Tammy dolls. That was our signal to keep our heads down and stay out of the kitchen, so I don't know if she started the cake all over again or was able to scrape the topping off and just re-make that part. If it was just slightly burnt it was actually kind of good in the way that slightly burnt roast marshmallows are; we ate it that way a lot.
Lazy Daisy Cake from the Fanny Farmer Cookbook, 1990 edition, Marion Cunningham
(8-inch square cake)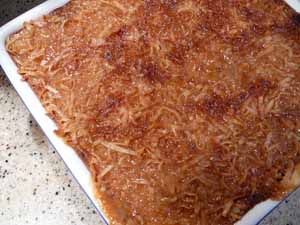 2 eggs
1 teaspoon vanilla
1 cup granulated sugar
1 cup flour
1 teaspoon baking powder
1/4 teaspoon salt
1/2 cup milk
4 tablespoons butter, divided
3 tablespoons dark brown sugar
2 tablespoons cream
1/2 cup grated coconut or finely chopped nuts
Note: In place of the flour, baking powder, and salt I used 1 cup of self-rising flour and it was even quicker and worked beautifully.
Preheat oven to 350º. Butter and lightly flour an 8-inch square cake pan or spray with cooking spray. Beat the eggs with the vanilla until they have thickened slightly. Gradually add the granulated sugar and beat thoroughly. Mix the flour, baking powder, and salt together and add to the first mixture, blending until smooth. Heat the milk and 1 tablespoon of the butter together in a small pan (I used a pyrex measuring cup in the microwave). When the butter has melted, stir the milk and melted butter into the batter and mix well; the batter will be very liquid. Work quickly now and pour batter into pan; bake for about 25 minutes, until a toothpick comes out clean. Remove cake from oven. Meanwhile, mix remaining 3 tablespoons butter, brown sugar, cream, and coconut or nuts together in a small pan over low heat until melted and well blended. (I added a bit of vanilla to this mixture.) Spread over hot cake and brown lightly under the broiler for a minute or two, taking care that it does not burn.