Mom makes sweet and sour pork
Last night I made a couple of pork tenderloins and we only ate one of them. (They were awfully good, too, simply coated with smoked paprika and ground cumin, browned on the stovetop, then finished off inside the oven for about a half hour. I served them with a sauce made by deglazing the pan with a bit of beef stock and balsamic vinegar, cooked down until syrupy.) Anyway, I had one whole tenderloin left over and didn't want to run the risk of throwing it away in two or three days. One can only eat so many pork sandwiches.
I sought help from the place I so often turn to when faced with large chunks of surplus protein – my Fannie Farmer Cookbook, the 1990 edition by Marion Cunningham. She has lots of suggestions for using leftover pork, but this is one of my favorites. My husband really loves it, too. It is very unsophisticated as written, and unabashedly American. Tonight I threw in a handful of raw cashews with the peppers and onions, and added some fresh garlic, and because we like our food a bit spicy I used hot pepper sesame oil as part of the oil for stir frying the vegetables. I also used chicken stock instead of water in the sauce mixture, but in the past I have prepared the recipe exactly as it is in the book and it is still darn tasty.
Pork Sweet and Sour, from the Fannie Farmer Cookbook, 1990 edition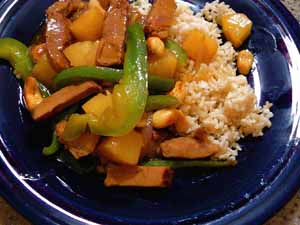 1 1/2 pounds cooked pork
3/4 cup soy sauce
3 tablespoons oil
3 green peppers, cut in narrow strips
1 onion, cut in narrow strips
1-pound 4-ounce can pineapple tidbits
Sauce
3 tablespoons cornstarch
1 tablespoon soy sauce
3 tablespoons vinegar
1/3 cup sugar
1/3 cup water
Trim the pork of excess fat and slice into strips. Put the pork in a shallow dish and cover with the 3/4 cup soy sauce. Let stand for 1 hour, turning the meat often so it thoroughly marinates. Heat the oil in a sauté pan, add the peppers and onion, and cook over high heat for just a minute, stirring constantly. Remove from the pan and set aside. Drain the pork, add to the skillet along with the juice from the pineapple tidbits, and bring to a boil. Lower the heat and simmer for 5 minutes. Add the pineapple, peppers, and onion, stir to mix and simmer a minute. Combine thoroughly the sauce ingredients and add to the pork mixture, stirring constantly. Cook until sauce thickens.