Mom makes caramels
Now that the holidays are pretty much over except for some stray decorations here and there I've been thinking about the fact that they aren't as satisfying as they used to be, and I know it's not simply because I've become a crotchety old woman. At the risk of once again sounding like a living museum, when I was little there were only a few times a year when we really were allowed to eat wonderful foods until we were stuffed, and those were at Thanksgiving and Christmas. And moreover, we didn't eat candy all the time, either; we got candy at Halloween, Easter, in our Christmas stockings, and Aunt Jenny (my father's aunt) made wonderful home made caramels and chocolate-covered butter creams and gave them to us at Christmas time.
These days folks can eat all they want whenever they want, and many people stuff themselves too often. Candy is available almost everywhere you go; they even started selling it at Kinko's recently (do we need to buy a candy bar when we go to get copies made?!). So the table groaning with good food at Thanksgiving and Christmas just doesn't seem all that special.
There are one or two things I do try to reserve just for making at Christmas, though. I wish I had Aunt Jenny's recipe for her butter creams because I used to love them with a fierce passion; in fact I once burned off my eyelashes bending over the candles trying to pick the biggest piece of candy out of the box. Aunt Jenny took her recipes to the grave with her, but I found a recipe in my old Better Homes and Gardens cookbook for caramels that taste just like the ones that she used to make. I only make these once a year, and give most of them away. I know Christmas is over, but you could put some home made caramels in a heart-shaped tin and give them to your Valentine; I'd recommend the chocolate ones in that case.
Caramels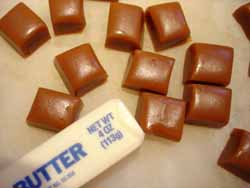 1 cup butter
1 pound (2 1/4 cups) brown sugar – don't use dark brown
Dash salt
1 cup light corn syrup
1 15-ounce can sweetened condensed milk
1 teaspoon vanilla
Melt butter in heavy 3-quart saucepan. Add sugar and salt; stir thoroughly. Stir in corn syrup; mix well. Gradually add milk, stirring constantly. Cook and stir over medium heat to firm ball stage (245º on candy thermometer), 20-30 minutes. This is very tedious but you must keep stirring or it will burn on the bottom. Remove from heat; stir in vanilla. Pour into buttered 9×9x2-inch pan. Cool and cut into squares. Wrap in waxed paper and store in covered container at room temperature.
Chocolate caramels: Add two 1-ounce squares unsweetened chocolate with milk. Makes about 2 1/2 pounds candy.