Cupcakes and brownies
As much as I'm enjoying Mark Bittman's book, the two baking recipes I've tried were disappointing. First up was his simple recipe for chocolate cupcakes with buttercream frosting. Easy, and perfectly edible: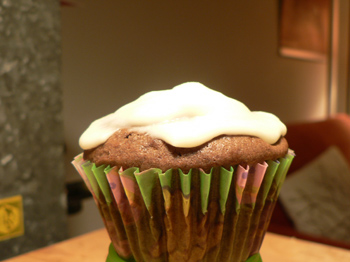 But boring. I realized halfway through the baking that I forgot to add the quarter teaspoon of salt (did I inherit this trait from my mother?), which may have made a difference, but the flavor was just a bit boring all around, and the frosting was sickeningly sweet. I've eaten buttercream many times, but this was the first time I saw exactly what goes into it. Perhaps that affected my judgment. All that butter! All that confectioner's sugar! I don't know what I thought was in there. I'm looking for a creamier, more mommy-tasting frosting, if anyone knows of one. One that's as different as possible from Magnolia Bakery's frosting in flavor, texture, and edibility.
This weekend was brownies, which were more of a success but still offered little excitement in their flavor, despite my addition of whiskey to the batter per one of Mark's variations: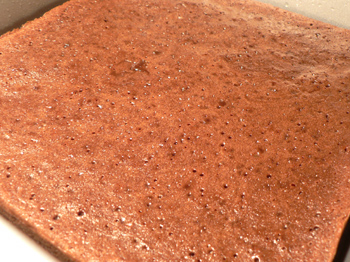 Is a full cup of sugar the norm for an 8×8 pan of brownies? My problem might be a general dislike of sugar, but I find these brownies more sweet than chocolaty. The texture is good, but what I really want is a dense, deeply chocolaty brownie with a crackling crust on top (basically, brownies that taste like the Ghirardelli mix brownies that I used to make years ago). Anybody?
Neither of these recipes are worth typing out, but if you're very eager, you can search inside the book on Amazon. You actually should just buy the book if you don't already have it. It's only $14, and as much as I complain, you'll find hundreds of things you want to make in it.