Raw milk party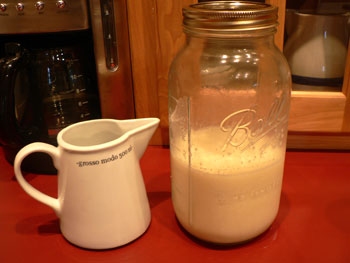 Mom is cooking up a full Thanksgiving post that will go up sometime in the next few days, but in the meantime I wanted to report about a wonderful new, regular product in my grandmother's refrigerator: raw milk. She managed to buy a share of a cow from some Maryland Mennonites, and every week she picks up 1.5 gallons of milk in Mason jars from her cow along with other fresh products. (These same Mennonites provided us with two freshly slaughtered turkeys for our Thanksgiving dinner, which were beautiful and delicious.) Nina Planck swears by the nutritional benefits of raw milk, and my grandfather, whose body cannot tolerate lactose, is happy to finally be able to enjoy a glass of cold milk poured over his leftover apple pie the morning after Thanksgiving. Enzymes he needs to digest lactose are destroyed by pasteurization. The state of Maryland may eventually make her arrangement with the Mennonites illegal, but in the meantime, it's a raw milk party every day here in rural Keedysville, and everyone is happy.
Raw milk looks, smells, and tastes different and better than any milk I've ever had. It's yellowish and grassy, and it tastes sweet and delicate. Of course it's risky, and maybe you have a higher chance of being exposed to different pathogens when you drink it (compared to pasteurized milk). But you will also be exposed to healthful bacteria that are destroyed in processed milk, and to not have the choice is infuriating. My mother and her siblings all grew up on it in the fifties and sixties, and none of them ever had a problem.
Considering all the other products we can freely buy in varying degrees of healthfulness (cigarettes, alcohol, guns, candy), I find it bizarre that we can't make a choice about dairy products. Put a warning label on it, and let us take the risk. I'd like to at least be able to make an arrangement similar to my grandmother's with a farm in New Jersey or New York. Have any readers accomplished this? Does anyone know of a farmer who would be willing to break this ridiculous law? Is there a source in the city that I don't know about?