Extremely good onion soup
The night before Thanksgiving break begins, the kitchen does not offer much fresh food to eat. Having done a good job finishing my meat and produce over the last few days, I had nothing left but onions, garlic, bacon, and other staples (yes, bacon is a staple).
Earlier this afternoon, I read Cesare Casella's recipe for a Tuscan onion soup. Googling didn't turn up the exact recipe I saw, but it did land me at this article about a layered soup of onions, toast, and poached eggs. (The recipe is on a different page.)
I love layered soups, and soups that you eat with forks. I want them to be thick and heavy, broken up by lightly chewy pieces of other things. Daniel Young's garlic soup is a good example of the genre.
Fewer than half of the ingredients called for in the recipe were available to me, so I improvised, following the procedure only in theory. I won't formally list the ingredients, and that will probably persuade most people to stop reading this post immediately. You really just need a few things: olive oil or butter, a few strips of bacon (or another cured pork product) cut into pieces, several onions of any kind chopped into thin slices, a cup or two of white wine, two cups of chicken (or other) broth, red pepper flakes, red wine vinegar or balsamic vinegar, parmesan cheese, eggs, country bread.
This barely looks like soup, but I promise that there was a good centimeter of broth at the bottom of the bowl.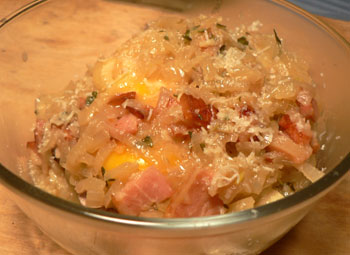 Leland's onion soup (adapted from Cesare's Tuscan onion soup)
Heat up some olive oil in a saucepan and fry lardons until they crisp a bit. Set them aside to dry on paper towels, leaving the fat in the pan. Cook the onions in that fat with extra oil if needed. The pan should be quite full of onions. Salt them (Cesare smartly points out that the salt helps the onions lose their water), and cook them for at least thirty minutes over low to medium heat. They should be very brown, but not burnt. While they cook, add a pinch of red pepper flakes and some sliced garlic.
In the meantime, you should be heating up the white wine. Pour the hot wine into the onions and bring it to a boil. Let the wine reduce completely, during which time you should heat the broth. Pour in the broth, and add whatever herb you have around (I used quite a bit of fresh oregano, but rosemary or thyme would do nicely) and about a teaspoon of vinegar. Cover the soup, and simmer it for another thirty minutes. It should look pretty liquidy, but not ridiculously so.
As the soup simmers, get everything else ready. Grate your parmesan cheese, slice your toast, and poach one egg per person. I poached my eggs in a barely simmering combination of water and red wine. After four minutes, I put them in a bowl of cold water. The white should be set and the yolk should look precarious. Toast the bread pretty well, and while it's still hot, put it in the soup bowls and sprinkle cheese on it so that it melts into the holes a bit. Top the toast with the eggs, and ladle the soup over the eggs. (I added crème fraîche to my soup to bring it all together before serving, but it would have been just as good without). Sprinkle more cheese over the whole, and serve piping hot.
This soup is spicy, tangy, and sweet. The egg will burst its yolky goodness over everything, soaking the toast below it in an extremely good way.
Happy Thanksgiving, readers!