Another meat loaf
Just when I thought my second honeymoon with the Silver Palate's New Basics Cookbook was over and I was ready to go on with my life, faithful reader Marcy alerted me to a must-try meat loaf recipe. She said "It is seriously tasty…a bit more work than a standard meatloaf but the result is well worth the work!" I would definitely agree that this recipe was a lot more work than my usual meat loaf, which takes me about ten minutes to prepare, from start to finish, and I don't use my hands to mix it. I spent two days on this loaf, chopping all the vegetables into tiny dice, sautéeing them in butter, chilling them; preparing and toasting fresh bread crumbs; liberating pork sausage from its casings, and then finding two enormous pans, one big enough to hold the other one so I could make a gerry-rigged (or is that "jury-rigged") bain-marie.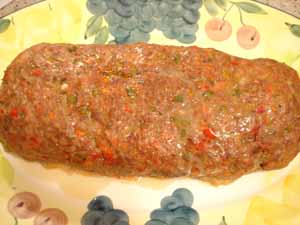 A couple of further notes on the preparation: I diced the vegetables by hand because I don't think you can get a good tiny, uniform dice in the food processor. If you don't let it run long enough some of the pieces are too large, and if you run it longer you get purée. I did use the processor for the breadcrumbs, though. And the recipe calls for a baking time of 35-40 minutes, which in my opinion wasn't nearly long enough for a meat loaf of this size, especially one with pork in it. I added about 15 minutes to the suggested time, and even at that was nervous that it might not be done when I saw pinkish juices begin to run out of it onto the platter as it was "resting". All was well, though, upon slicing, when we were served with perfectly cooked, moist, and extremely tasty meat loaf.
Market Street Meat Loaf – 8 to 10 servings
3 tablespoons butter
3/4 cup finely chopped onion
3/4 cup finely chopped scallions, white and about 3 inches of green
1/2 cup finely chopped carrots
1/4 cup finely chopped celery
1/4 cup each minced red and green bell pepper
2 teaspoons minced fresh garlic
salt, to taste (I used about 2 teaspoons)
1 teaspoon ground pepper (freshly ground if you feel like breaking your arm)
1/2 teaspoon ground white pepper (I thought that was silly, plus didn't have it so didn't bother)
1/4 teaspoon cayenne pepper
1 teaspoon ground cumin
1/2 teaspoon freshly grated nutmeg (or any old ground nutmeg like most of us have)
3 eggs, well beaten
1/2 cup ketchup (not easy to find without high fructose corn syrup but can be done)
1/2 cup half&half
2 pounds lean ground beef chuck
12 ounces sausage meat (not sweet fennel-flavored sweet Italian although I don't think it would go too badly with the nutmeg)
3/4 cup fine fresh bread crumbs, toasted (I toasted some old hamburger buns and ground them in the Cuisinart)
1. Preheat oven to 375º, although this is premature considering you will be chilling the vegetables for at least an hour.
2. Melt the butter in a heavy skillet, and add all the chopped vegetables including the garlic. Cook, stirring often, until the moisture from the veggies has evaporated, about 10 minutes. Set aside to cool; then refrigerate, covered, until chilled, at least 1 hour. I did this the night before.
3. Combine all the seasonings and eggs in a large mixing bowl and beat well. Add the ketchup and half&half and blend thoroughly.
4. Add the beef, sausage, and bread crumbs to the egg mixture in the bowl. Then add the chilled vegetables and mix thoroughly with your hands, kneading for 5 minutes.
5. With damp hands, form the mixture into an oval approximately 17 1/2 X 4 1/2 X 1 1/2 inches, resembling a long loaf of bread. I didn't have a pan that long so my loaf was a bit shorter and wider which may be why it took longer in the oven; mine was also a little bigger.
6. Place the meat loaf in a baking dish, and place the dish inside a larger pan. Pour boiling water into the larger pan until it reaches halfway up the sides of the inside dish. (I'm just now seeing the boiling part!)
7. Place the pan in the oven and bake for 35-40 minutes but remember your time may be longer like mine was.
8. Remove the baking dish from the water bath, and let the meat loaf rest for 20 minutes in a warm place before slicing and serving.