Mom cooks pork chops
Anne, from A Good American Wife alerted me to another recipe from The Silver Palate's New Basics Cookbook that I had never tried, Pork Chops and Scalloped Potato Casserole. I usually make my scalloped potatoes the way my mother taught me, basically just slicing a lot of potatoes and onions and layering them with salt, pepper, a sprinkle of flour, generous lashings of grated sharp cheddar, and repeating until the casserole is full, then pouring milk over the whole thing until I can see it, placing in oven and baking until it is done, which takes a long time.
This recipe skips the cheese and uses heavy cream seasoned with garlic, thyme, and mustard, and it's really a very nice variation on scalloped potatoes. The pork chops are browned and layered in the middle of the spuds, so you actually can't see them in the photo. I used thin, 1/2 inch chops; and they cooked a bit faster than the time called for in the recipe.
Pork Chops and Scalloped Potato Casserole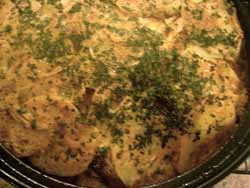 2 cups heavy cream
1 clove garlic, thinly sliced
2 tablespoons whole-grain mustard
2 tablespoons Dijon mustard
2 teaspoons dried thyme
3 cups thinly sliced peeled potatoes
2 tablespoons butter
6 loin pork chops
1/4 cup white wine
1 cup sliced onion
2 tablespoons chopped parsley
salt and pepper
1. Preheat oven to 350ºF.
2. Bring the cream and garlic to boil in a saucepan. Reduce the heat and simmer until reduced by a third, about 5-8 minutes. Add both mustards and thyme. Set aside.
3. Fill a large pot with water and bring to boil. Drop potato slices in and cook for 30 seconds. Drain, rinse under cold water and dry on paper towels. (I just let them sit in a colander while I worked on frying the chops and didn't even rinse them.)
4. Melt the butter (I used a little olive oil with it) in a large skillet and brown the chops over medium-high heat for 2 minutes on each side. Remove from pan and set aside. Add the wine to pan and simmer for 30 seconds, scraping up and brown bits. Turn off skillet.
5. In large shallow casserole, layer half the potatoes and onions; lay the chops on top and pour the pan juices over them. Top with remaining potatoes and onions, and then carefully pour the reduced cream over the top. If it seems a little dry add a bit more cream. Sprinkle the top with chopped parsley, salt, and pepper.
6. Bake for 1 1/4 hours. If the top isn't brown enough, place under broiler and cook until browned and bubbly, but I didn't find this to be necessary.
I served this with green beans on the side, but applesauce would also be good.