Mom makes plum cake
After all the restaurant pho we ate, and in some cases, suffered through, this summer, I decided to make a stab at trying my own this week. It was a bit of a chore, rounding up all the ingredients – the bones, the exotic seasonings, the condiments and add-ins, and I even had to purchase new, deep soup bowls because all we really had were cereal bowls, which were too small, or pasta bowls, which were too shallow. I spent two days on it, making the stock one day, and removing the congealed fat from it the next before proceeding with the rest of the recipe. After all that I was a little hurt to have my husband judge that it "needed work." I'm thinking it will be a cold day in hell before I make it at home again; it's a lot easier to pay $7.95 in a restaurant!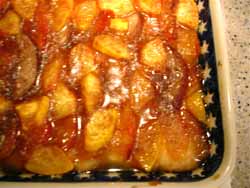 Anyway, this post isn't even about the pho, but about what I made for dessert. Since I was serving the soup to four men, two of whom had never eaten it before, I wanted to make sure I had a substantial dessert I knew they would like, yet something that vaguely went with the meal. I know, sticky rice topped with coconut milk, or dumplings filled with sweetened bean paste would have been more authentic, but I remembered a cake I used to make a lot in the 70's from the Joy of Cooking, called Plum Cake Cockaigne. I baked it right before we ate, so it was warm, and served it with scoops of vanilla ice cream.
Butter an 8 or 9-inch square pan. Preheat oven to 425º.
Sift together:
1 cup all-purpose flour
1 teaspoon baking powder
1/4 teaspoon salt
2 tablespoons sugar
Add:
1 1/2-3 tablespoons butter
Work these ingredients like pastry.
Beat well in a measuring cup:
1 egg
1/2 teaspoon vanilla
Add:
Enough milk to cup to measure 1/2 cup mixture
Combine with the flour and butter to make a stiff dough. You may spread the dough into the greased pan with your floured palm or a rubber spatula, or spread it partly with a wooden spoon, then distribute it evenly by pushing it with the fruit sections when you place them closely in overlapping rows. The dough spreads out very thinly. Use about:
4 cups sliced unpared plums or peaches
Sprinkle with a mixture of:
1 cup white or brown sugar
2 teaspoons cinnamon
3 tablespoons melted butter
Bake about 25 minutes, or until top is bubbling and fruit is soft when pierced with sharp knife.
Note If you don't know what Irma means when she says work ingredients like pastry, she means cut the butter into the flour until it looks crumbly. I use my food processor for the whole thing. I think it's funny that she assumes everyone will just know what she means by that. Back in the 30's I'm sure they did.