Mom goes to Altoona
We took to the road again last weekend, this time on a shorter trip – to Altoona, where Poppy was performing in a club called Burgi's Roundhouse on Saturday night. We made a family weekend out of it by taking Calvin on an informal tour of the Penn State campus Sunday afternoon and then heading back to Altoona to watch the Altoona Curve play a baseball game.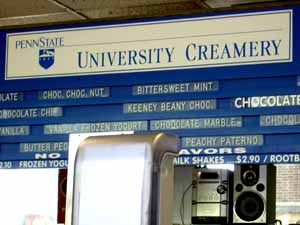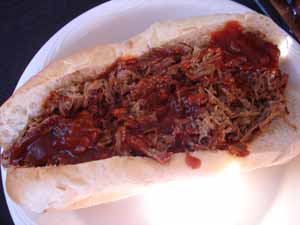 What does any of this have to do with food, you may be asking? What, indeed! Among other things, I was retracing Lindy's trip of a few weeks ago by eating at Clem's Barbecue, and enjoying ice cream at the Penn State Creamery. Here are the photos to prove it; doesn't my barbecued brisket sandwich look delicious? We also took a trip down memory lane for Bill while we were in State College and had lunch at The Corner Room, where he used to eat with his parents when they would come to State College to visit him at school there. And probably the most impressive eating experience for Calvin was the stop at the Altoona 24-hour Sheetz after the gig for a late night snack. Although personally I've never thought Sheetz could hold a candle to Wawa when it comes to convenience stores, even I have to take my hat off to the one in Altoona; it looks like a futuristic space station and is stocked with every kind of snack and convenience food you can imagine and quite a few you never even thought of.
Now, on to my more immediate concerns and why I haven't had the heart to do any posting or even much commenting lately; the state of my kitchen project. We are in the middle of the fourth week and as far as I can tell we are barely half-way finished. No one showed up for work at all yesterday and when I finally called in the afternoon I could only get the contractor's voice mail. He returned my call last night some time and left a message on my cell phone saying he had told me that because of the death of his grandmother they were taking Monday and Tuesday off this week. I know that's not true; when we talked on Friday he only mentioned taking that day off. The relationship is deteriorating and I know I was too friendly and easy-going when they started. I should have been much more business-like and had higher expectations. It's always easier to lower the bar than it is to set it higher after a relationship has already begun. When they do work they don't show up until 11:30 or 12:00; at this rate they won't be finished the job until Christmas!!