Birthday dinner at Tessaro's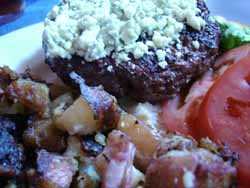 Yesterday was our youngest, Calvin's, 17th birthday, and we took him, his friend Sam, Jon, and our daughter Valerie out for burgers at Tessaro's in Bloomfield. Although Monday is Mexican night at Tessaro's, is there really any good reason to eat anything other than a burger there? If you read the link, you will see that they grind their own beef and hand-shape the 8-ounce patties before cooking them on a hard-wood grill. Hamburger perfection, served with dark and crusty home fries, or house-made cole slaw or potato salad. I always get my burger topped with blue cheese, as pictured here, but the other toppings are equally good – fried onions and/or peppers, sauteed mushrooms, other cheeses, barbecue sauce, etc.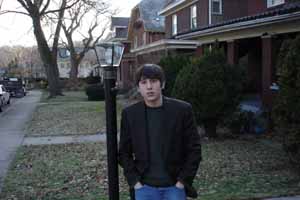 BTW, click on this link for an article from the Pittsburgh City Paper in which Calvin is quoted in connection with a class he is taking at Carnegie Mellon this summer called From the Beats to Hip-Hop. We clearly neglected his education if he thought that Allen Ginsberg was an important figure in the hip-hop world; you think you've covered all the bases as a mother and something comes at you from left field! But it's true that I did discourage him from reading Charles Bukowski when he was younger, thinking that an acquaintance with Bukowski's works would surely be unhealthy for the sensibilities of a young person. There are times I wake up screaming in the middle of the night wishing I had never read Bukowski myself. Here's a photo of the birthday boy, looking every inch like someone who can't wait to get to New York and begin taking film classes. Too bad he has to finish high school and get his undergraduate degree first.