Prosciutto-wrapped chicken
The following is a ridiculously simple recipe for chicken that I've made about five times in the last year. It shows up all over the Internet, but once you see the picture, you probably won't even need to read it.
This is one of the only preparations involving boneless skinless chicken that I can tolerate, because the alternative involves too much work for something so simple. Furthermore, I fainted this morning in the blood lab at the doctor's, and I don't trust myself with any big knives. And I splurged on d'Artagnan chicken, which Nathan doesn't know, so at least I'm supporting a good operation.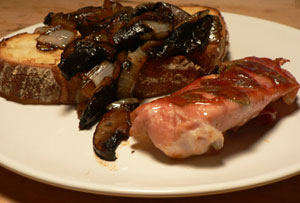 Prosciutto-wrapped chicken with sage
2 boneless, skinless chicken breast halves
10 sage leaves, bruised
2 slices prosciutto
1 tablespoon olive oil
Lay several sage leaves on top of each chicken breast, and wrap a slice of prosciutto around each. Heat oil in a nonstick skillet over medium heat. Place the chicken in the skillet, sage side down. Cover and cook for 5 minutes. Remove cover, turn chicken over, and cook uncovered for another 5 minutes.
Some recipes tell you to secure the chicken with a toothpick, which I find unnecessary, provided you wrap it well. Others have you make a sauce at the end, which is unnecessary if your chicken is properly cooked. Andrea Immer would prefer that you accompany this dish with a nice Chianti, which I'm sure is lovely, but I had a vodka.
No seasonings are needed, and you can serve this however you want. I toasted a big piece of country bread and topped it with sautéed portobello mushrooms and onions with thyme and garlic, and I had some soft gorgonzola dolce on the table for spreading.