Penne with mushrooms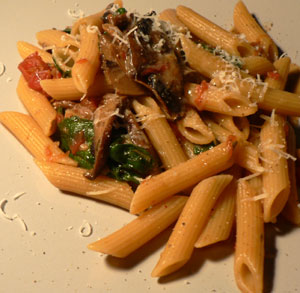 I have been meaning to post this recipe since Chuck and I first made it last summer. It was so good, and I promised over and over to email it to him. Alas, it was ripped from the pages of Bon Appétit, and it doesn't show up online. After making it again last week and remembering how intense and good it is, I finally have my act together.
Penne with mushrooms, spinach, rosemary, and tomatoes
2 tablespoons butter
2 tablespoons olive oil
1 pound portobello mushrooms, sliced
4 large garlic cloves, minced
2 teaspoons chopped fresh rosemary, divided
1 2/3 cup beef broth, divided
1 cup chicken broth
1/2 ounce dried porcini mushrooms
1/3 cup white wine
3 large plum tomatoes, chopped
1 pound penne
6 ounces spinach leaves
1 1/4 cups grated parmesan or asiago
Melt the butter and oil over high heat. Add the mushrooms, garlic, and half the rosemary, and sauté 10 minutes or until mushrooms are tender. Put this mixture in a bowl. Add 1 cup of beef broth and the chicken broth to the skillet. Add the porcini, bring to a simmer, cover, and cook about 12 minutes. Return the mushroom mixture to the skillet along with the wine, and simmer uncovered for 5 minutes. Add the remaining rosemary and the tomatoes, and simmer until the tomatoes are tender and the sauce thickens, about 10 minutes.
In the meantime, cook the pasta, drain it, and return it to its pan. Add the spinach and the remaining beef broth (I think you can skip this broth addition), and toss to wilt the spinach. Mix the pasta with the sauce, stir in the cheese, season, and serve.