Special cherry pie
I know I've posted about cherry pie before on this blog, but this cherry pie is special; Nick Malgieri calls it Once-A-Year Cherry Pie, because the season for pie cherries is so fleeting. This is also possibly the most labor-intensive pie I've ever made, comparable to hand-sewing sequins or seed pearls on a wedding gown. If you've never pitted pie cherries before, there is no really efficient way to do it that I know of. They are softer than sweet cherries, and manual cherry pitters don't work well on them, although I tried to use mine all it did was sort of squash each cherry, or tear a hole in it so I could rip the pit out of it with my fingernail. Mr. Malgieri recommends simply slashing each cherry with a small paring knife and squeezing to extract the pit. But at the same time you have to make sure to catch the juice so you can use it in the filling, so the whole thing is rather awkward, as you balance two or three bowls on your lap with cherry juice running down your arms. Pie cherries are small, too, so pitting two quarts of them takes a long time. The only thing I changed in the recipe is that I eliminated cinnamon and almond extract and substituted vanilla, as I don't like almond flavor in my cherry pie. Of course I used the Watkins vanilla.
Once-A-Year Cherry Pie from How to Bake by Nick Malgieri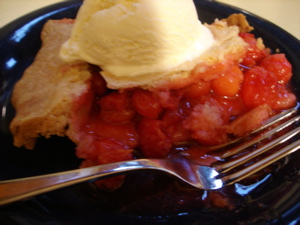 pastry for 2 crust 10 inch pie
2 quarts sour pie cherries (sweet cherries do not work for pie)
1 cup sugar
3 tablespoons cornstarch
3 tablespoons water
1 teaspoon vanilla
2 tablespoons butter
pinch salt
Prepare and chill the pie dough.
To make the filling, pit the cherries over a bowl; slash the side of each one with a small paring knife and squeeze gently to extract the pits. Put the cherries in the bowl as they are pitted.
When all the cherries have been pitted, drain the juices from the bowl into a nonreactive saucepan and add 1 cup of the cherries and the sugar. Bring to a simmer over low heat, stirring occasionally, until the sugar is melted and the mixture is very liquid, about 5 minutes.
Combine the cornstarch and water in a small bowl and whisk the cherry and sugar mixture into it. Return to the pan and cook, stirring constantly, over low heat, until it comes to a boil, thickens, and becomes clear, continue to cook over low heat for and additional few minutes until it does. Pour into a large bowl and stir in the remaining filling ingredients, except the cherries, then add the remaining cherries.
Roll out bottom crust and arrange in pie pan, pour filling into crust. Cover with plain or lattice-top crust and flute edge. Sprinkle top with sugar if you wish.
Place pie in 375º oven and bake for 50 minutes or until top is golden brown and filling is bubbling. Cool before serving.