Jacques Pépin's scallop soufflé
FreshDirect finally has a somewhat reasonable price on sea scallops; when I saw them go below $20 a pound, I pounced. (If you know a reliable, cheap source in the city, do tell.)
I really love good scallops, and I believe it's worth the extra money to get ones that aren't farmed. I do buy farmed scallops occasionally for a simple preparation, but the flavor and texture have nothing to do with the wild variety, in my experience. I don't know what it's like to actually get them in the shell, but this is as close as I'm going to get for the moment. Nathan confessed that he can smell the farmed ones in the fridge from the other room. He is not one to make such a comment, so I know the situation must be bad. As far as I'm concerned, that gives me carte blanche to splurge on sea scallops whenever I feel like it. Fresh sea scallops barely smell of fish; they smell like dessert.
Flipping through one of my favorite cookbooks today, Julia and Jacques Cooking at Home, I came across an interesting recipe called "Jacques's Scallop Soufflé." Ever since mom made her soufflé, I've been a bit envious. But it wasn't until this evening that I had the necessary dish, a sweet one-quart number that I scored at Sur La Table on Spring Street.
This is an intimidating recipe for a soufflé virgin, and it's the first recipe of Jacques's that I've really devoted myself to (albeit with several necessary changes). But the results were delicious. I never expected to pair scallops and Gruyère, but there I was grating cheese.
I bet there is some conventional wisdom that says that a woman's first soufflé won't rise properly. Well, I'm no woman, but how's this?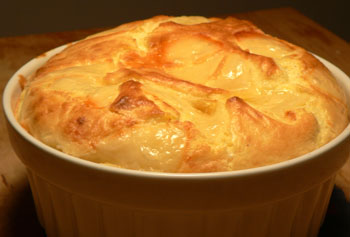 Ok, so it's not even within an inch of mom's picture-perfect cheese soufflé, but I don't think it's a total embarrassment for a first try. Looking at her picture, I think I could have left it in five more minutes and gotten another centimeter. As it was, the inside came out a bit wet. But really, after the presentation, who cares? It tasted great, and I appreciated the moisture inside.
Jacques's Scallop Soufflé
(modified for a 1-quart/4-cup gratin dish, serving 2 to 3)
The scallops
1/2 pound sea scallops
1.5 tablespoons butter
1/2 cup minced shallots (I used more than that and I used onion)
salt and pepper
1 tablespoon chopped chives (I had none)
The soufflé
1.5 tablespoons butter
2 tablespoons flour
3/4 cup milk
salt and pepper
nutmeg
3 eggs, separated
1/2 cup grated Cheddar (I used Gruyère), plus a few slices for the top
2 tablespoons bread crumbs (I had none and no bread; panko would have been cool)
Preheat the oven to 350ºF. Rinse and dry the scallops. Melt the butter in a skillet over high heat and cook the shallot or onion for about a minute to soften. Sear the scallops in there with the onions for just a minute to brown them a bit. Turn off the heat (they will cook in the oven), season, add the chives if you have them, and pour it all into the gratin dish.
Melt the butter in a saucepan over high heat and whisk in the flour. Ten seconds later, add the milk and stir. Bring it to a boil and keep stirring, being sure to scrape down the sides of the pan. Season, add some nutmeg, and reduce the heat, stirring occasionally. Add the egg yolks and blend well, bring back to a boil, then turn off the heat. Beat the egg whites in a large, clean bowl until stiff and shiny (a hand mixer makes quick work of this). Stir a third of the egg whites into the hot yolk mixture. Once that's done, pour all of that into the remaining whites. Fold it all together with a rubber spatula, and sprinkle in the cheese.
Pour the mixture over the scallops and shallots. Sprinkle on the bread crumbs and add a few decorative slices of cheese. Put the dish onto a cookie sheet and bake for about 30 minutes, until puffy and well browned.