Tarte à l'oignon
I've been afraid of making my own tart dough ever since my quiche phase began. After being told repeatedly how boring it was to read about quiche made with store-bought shells, I decided it was time to get over my fears and just make the damn dough.
Flipping through André Soltner's excellent Lutèce Cookbook today, I came across a recipe for his famous tarte à l'oignon. He wrote that when he was growing up in Alsace, there were restaurants that only served one thing, such as this tart, at one time of the day, and that everyone in town would go in for a piece of whatever was on offer and a glass of white wine or beer. Doesn't that sound so civilized? He used to serve it for lunch at Lutèce and for dinner only when requested in advance. It sounded as easy as could be, and I am newly armed with five pounds of King Arthur all-purpose flour (which Balducci's on 8th Avenue carries).
So I measured out two cups of flour and a teaspoon of salt, kneaded in a stick of cold unsalted butter, and then poured in 1/2 cup of cold water. I thought it was really cool to actually feel the gluten developing between my fingers as I kneaded. I let that rest in the fridge for half an hour while I cooked a pound of chopped onions in bacon fat for the filling. Then I pulled the dough from the fridge and began to roll it out.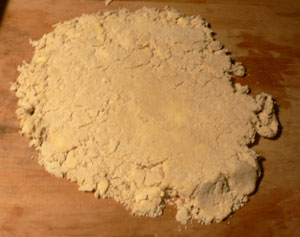 Don't ask me how I got it from the table into the pie plate—it was a complicated affair. You can see that parts of it are lumpy. That's a result of repeated warnings not to overwork the dough and the fact that every time I touched those lumps they became gummier.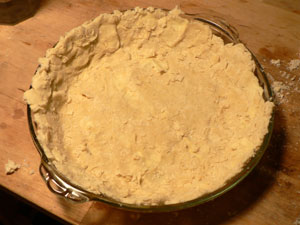 But into the pie plate it finally went. I beat an egg in a bowl with 1/2 cup of heavy cream, and I combined that with the onions and some salt, pepper, and a touch of nutmeg. Here is what it looked like before baking.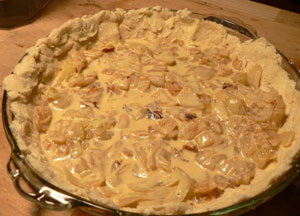 Twenty-five minutes later, we have my very first completely homemade onion tart.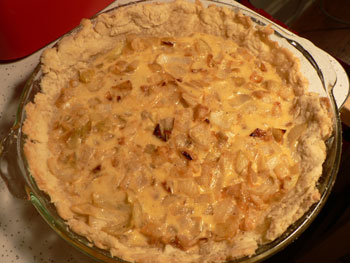 I know that I have a lot to learn about making dough, but if the first time was any indication of things to come, I have every reason for happiness. There is a huge difference between this rustic, buttery concoction and the boringly perfect FreshDirect version.
As usual, any wisdom is appreciated! Should I roll the dough out on a Silpat and then invert it over the pie plate? If that's even an issue, am I not rolling it enough? If it's too crumbly, should I add a bit more water?