Ramps and fiddlehead ferns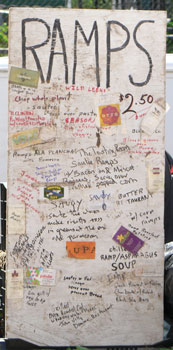 A hilarious article appears in the Dining section today about ramps, fiddlehead ferns, and other spring weeds. Despite all of the hype surrounding these signs of springtime, Kim Severson says, "Ramps and fiddleheads are like promising dates that end up making your ex look terrific." She says they are hard to clean, overly bitter, and in general not good to eat.
I haven't eaten either of them, and I do still intend to try them, but I love when an article like this takes the wind out of some trendy item's sails. Are we so obsessed with seasonality that we'll eat something that isn't even very good? Severson thinks we eat these weeds out of desperation: "After months of root vegetables and enough braised meat to choke an ox, cooks are desperate for something — anything — pulled from the earth or out of cold, early-spring water."
Have any of you prepared or enjoyed any of these growths? Mom, are these as popular at the Pittsburgh farmers' markets as they are here?