Capote dinner party
Making dinner for five people is a challenge for an amateur like me, and until last night I had never fed that many people and been happy with what was on the table. I have endless respect for the millions of mothers in the world feeding tables full of hungry, picky men night after night; it's not an easy job.
Uncle Ted and I had been planning to have a Capote party for months now, and we finally got the guests and DVD together last night. Ted's friend said we should go southern because of Truman's background, which was fine by me; I've learned a thing or two about southern cuisine from my southern beau, especially during my collard greens phase. We decided on a menu of fried chicken, macaroni and cheese, and braised collards. Alex and Mattie brought a decadently creamy key lime pie from Agata & Valentina for dessert, which made our lives easier.
Of course, it's always pretty easy when you have Uncle Teddy hosting and helping in the kitchen. Look how cute he is working two bowls at once: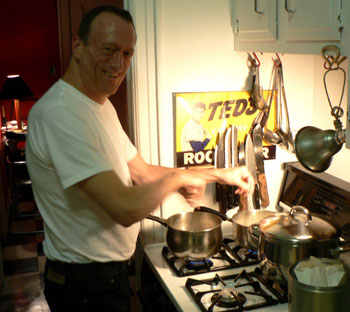 Finding a fried chicken recipe is hard even when you work in a food library. I finally found one in The Gourmet Cookbook, for "Claritha's Fried Chicken." The chicken was marinated in onions and buttermilk, dredged in flour and spices, and then fried in two cups of shortening and one stick of butter. I know, the whole stick of butter almost pushed me over the edge. Look at it in there: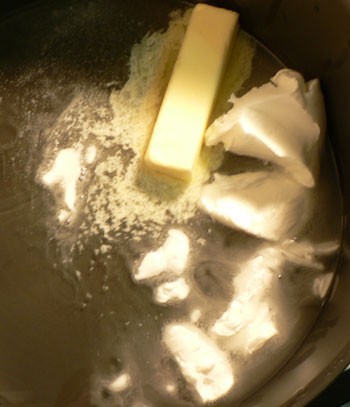 I can almost hear it saying, "What the heck am I doing in this bath of trans fats?" Ted and I decided that Claritha probably died of a heart attack eating like this.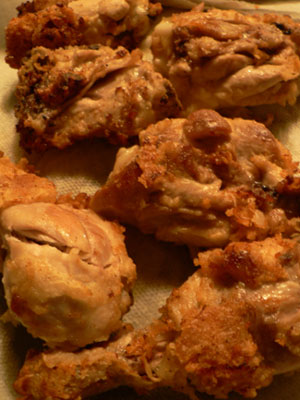 She also probably died happy, because her chicken was delicious. We made Ruth Reichl's macaroni and cheese from the same book, a recipe my mom favors, and that you would too if you could taste the panko crust. For the collard greens, we cooked a bunch of them in four tablespoons of butter for a few minutes before pouring in about a cup of Jim Beam, a half cup of beer, and seasonings like salt and red pepper flakes. Two hours later they were softer than spinach and far more substantial.
The movie, incidentally, was excellent. "Riveting" was my word of choice after a few drinks, and everyone agreed with me.