Wild mushroom risotto
This is apparently risotto week 2006, and poor n8 is stuck eating the leftovers for lunch. But when I have arborio rice in the house it burns a hole in my cupboard, and all I want to do is stir me up some creamy rice. Tonight I used dried cèpes to make a delicious and heady risotto: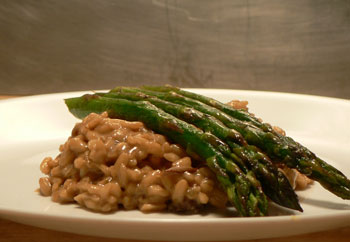 Wild mushroom risotto with asparagus
4 tablespoons butter
1 medium onion, chopped finely
2 or more garlic cloves, minced
1/2 cup vermouth or white wine
1 medium handful dried wild mushrooms (as many as you can handle without feeling sick), boiled in three cups water, then drained through a coffee filter or cheesecloth over a bowl and chopped (broth reserved)
1 cup arborio rice
1/2 pound asparagus, woody stems snapped off, peeled if ugly
1/4 cup heavy cream
Salt and pepper
1 cup grated parmesan cheese
Melt half of the butter in a saucepan over medium heat. Sauté the onion until tender and lightly browned. Add the garlic and cook, stirring constantly, for about 30 seconds.
Add the rice and stir. Cook for two or three minutes, then add the wine.
Once the wine is absorbed, begin to add the mushroom broth a cup at a time. Simmer over low heat until the rice is al dente, stirring as often as you can, although constant stirring isn't necessary.
In the meantime, cook the asparagus in the rest of the butter over high heat until lightly browned. Deglaze the pan with about 1/4 cup of the mushroom broth and cover. When the broth has evaporated, turn off the heat.
When the rice is about done, add the cream and stir. If you need more liquid, use wine, water, or any other stock/broth you have around.
Off the heat, season to taste, and stir in the parmesan. You can add more butter here, but I don't find it necessary. A fresh herb, such as sage, would be a nice addition, though.
Make sure the asparagus is hot, pile some on, and serve it forth.