Potato, bacon, and Gruyère quiche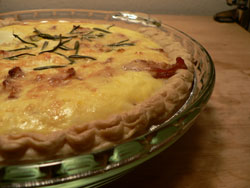 We almost went out tonight, but it was wintry-mixing and nasty outside, so I decided to make yet another quiche! Emily was right, you can just throw in whatever you have around. Tonight, that wasn't much. But I did have bacon and Gruyère, and onions and potatoes, and I did have a leftover shell. So I made an Alsatian-themed quiche, sautéing the potatoes in onions in the bacon grease then deglazing with some apple eau-de-vie to add sweetness. I added fresh rosemary at the last minute for freshness and color.
I will definitely continue to order these shells, and eventually learn to quickly make my own, as I intend to become the quiche master of lower Manhattan.