Zucchini, bacon, and Gruyère quiche
I made my first quiche tonight with zucchini, bacon, and Gruyère, using an excellent recipe I found on epicurious.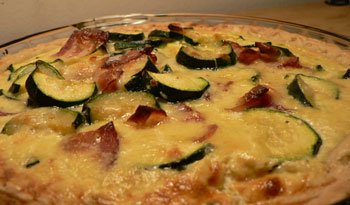 As n8 pointed out to his mother, I was the only person in New York that hadn't made a quiche. I think it's because I grew up eating them at home on a regular basis, and for whatever reason I wasn't a huge fan. Mom, what kind of quiche did you used to make for us? I'm sure it was delicious, but I was too young to enjoy all the eggy goodness.
I know I should be rolling out my own crusts at this point, but frankly I don't even know where to begin. So I ordered FreshDirect's quiche shells. They are $3.99 for two, and I was pleased with the flakiness and flavor.
People always talk about quiches as though they are the easiest meals in the world, but I was slaving away in the kitchen for a solid thirty minutes before I had anything in the oven. That's fine with me, but is there a faster way?