Yam pyramids
I made an ordinary dinner extraordinary last night with creative plating.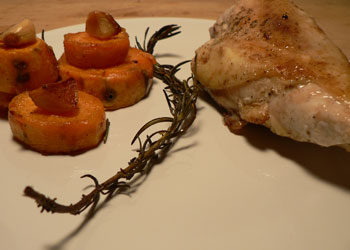 After seeing Jake's pictures of the pyramids yesterday afternoon, I decided to build little pyramids of yams and garlic. I'm starting to wonder why people bother to eat regular potatoes. Ok, that's stupid, of course potatoes have their merits. But yams are so cheap and sweet and versatile. I love them mashed, sautéed, and especially roasted with sea salt, herbs, and garlic. They are beautiful on the plate and on the tongue.
Today I am working on flanken braised in ancho-chile sauce, which we'll eat tomorrow or Tuesday night. It's no small task to prepare such fragrant ingredients when you've been hungover all morning, but I held my nose got it in the oven.