Catch up weblogging
I am so behind in my weblogging, as most people probably are during these busy weeks of December. Unlike most of you, though, I have a birthday in December, making it twice as busy! So, I will eventually write a post about my glamorous weekend of après-ski fun in Vermont, but for now I have a few miniposts that I have been meaning to write this month.
First, a few weeks ago I made a delicious dinner on a very cold night that warmed us up and made us happy.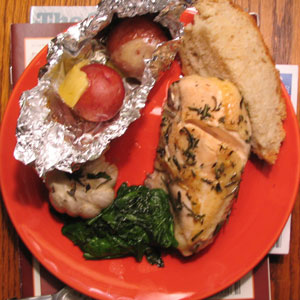 It consisted of a pan-roasted chicken breast covered in fresh thyme and rosemary, a whole head of roasted garlic per person, two red-skinned potatoes slathered in olive oil with thyme and rosemary branches, and spinach sautéed with garlic. I teamed it all with a hunk of rustic bread that I took home from work. I love dinners like this, where there are a bunch of things on the plate to play with. Multiple courses are nice too, but I want to taste everything together and in different orders, and I want to spread roasted garlic wherever I can. We ate for 30 minutes, saying hardly a word the whole time.
The next thing I have been meaning to post is a picture of the delicious dinner n8 made for me on my birthday.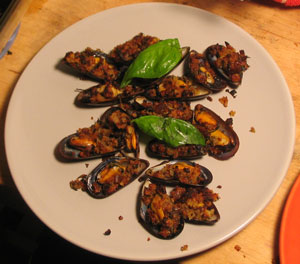 He broiled mussels (which are very cheap at FreshDirect, by the way) with fresh bread crumbs, garlic, and herbs. The presentation and flavor were lovely, and the best way to eat them was to pick them up and slurp them out.
Next are two pictures from my birthday brunch at Uncle Ted's apartment, which was a fabulous affair from beginning to end. We prepared a bounty of quiches, smoked salmon, bagels, etc. About eight or ten people came bearing desserts and champagne, and a fun, drunken time was had by all. Here is a picture of me blowing out my birthday candle: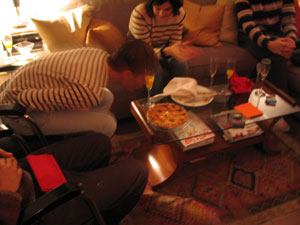 Finally, here is a picture of our delicious oven-roasted potatoes. Don't remember them from the party? That's because we found them in the oven after everyone left!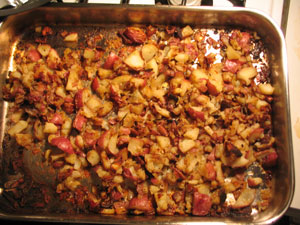 Stay tuned for Vermont pictures and commentary!