Phyllo cups with puréed peas and ricotta salata
Another dish we made for the party that disappeared in a matter of minutes came from François Payard's Bite Size, a book of beautiful little hors d'oeuvre taken from his New York catering company. Many of the book's recipes are quite fussy and too expensive to make for a large group (scallops, truffles, caviar, etc.), but I found one for phyllo cups full of puréed peas and ricotta salata. They looked so pretty in the picture, with the grated ricotta on top making them look like snow-covered Christmas trees.
Making them was a snap, and you hardly need a recipe. Boil two bags of frozen peas for a minute or two to cook them, and immediately purée them in a food processor. Mill or strain them into a half cup of grated ricotta and a few tablespoons of crème fraîche. I think the recipe called for a bit of salt, but add this to taste, as the cheese is salty on its own.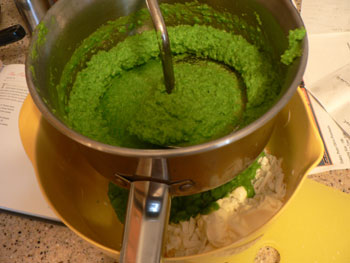 The milling was slightly tedious. I expected the entire purée to run through the holes, but I guess peas have a thick skin. I gave myself a little food mill blister, but that's becoming a regular fact of life for me.
Mix it all together, and once you have a nice greenish white purée, use a pastry bag to pipe it into phyllo cups (these quantities made more than enough for sixty cups. I mixed what was left with more crème fraîche to make a dip). Sprinkle more grated ricotta on top, and you're done.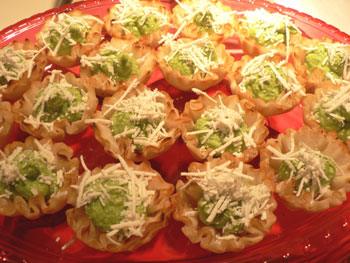 I was surprised at how popular these were, since the taste is pretty delicate. They are exceedingly cute, though, and easy to eat in a single bite. In other words, perfect party food.
Happy new year!