Greenmarket tour of Brooklyn
I spent this Saturday biking around Brooklyn and seeing four of the borough's biggest Greenmarkets. The tour was arranged by a small outfit called tastebuds, which hosts various happy hours and tours around the city. For the ridiculously low price of $15, a dozen or so motivated bikers had a great day full of food and education.
We started at the McCarren Park market with a nice breakfast of pastries and coffee. Here's my friend Emily, who's nervous about riding her bike through traffic but excited about the perfect weather.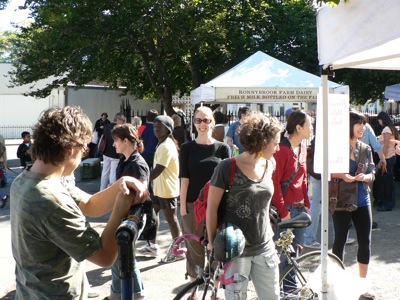 From Greenpoint, we made our way back to where I started: the Borough Hall market, where we all got a chance to turn apples into cider. Here's my friend Anna on the attack: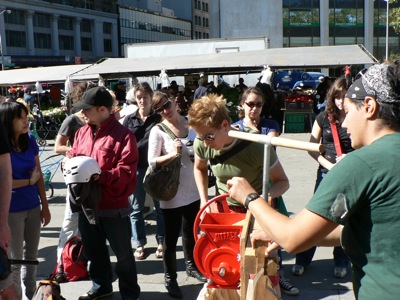 My favorite part of the tour was listening and talking to Farmer Wilklow of Wilklow Orchards. He runs a farm that's been in his family since before the Civil War, and he's got both of his kids stationed at other markets around Brooklyn. Mr. Wilklow has been at Borough Hall since the 80s, and he said that the higher prices he can charge at markets saved his farm. Here he is: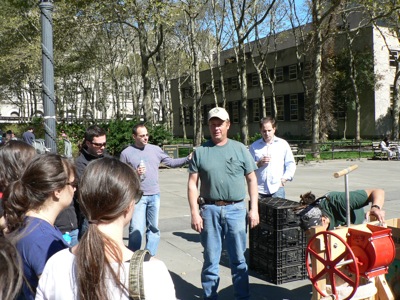 And here is his son (on the right), talking with Chef Nick Morgenstern of The General Greene outside the Fort Greene market.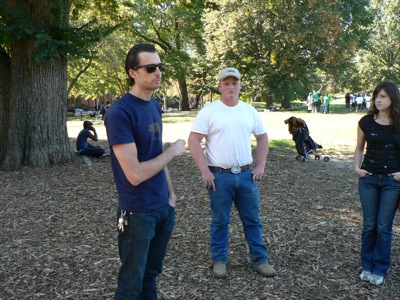 We spent a good amount of time at this market talking with some of the farmers there, learning about the market's robust composting program and the challenges faced by composters in cities, and eating delicious cheese from Cato Corner and Consider Bardwell. Here is what the market looks like: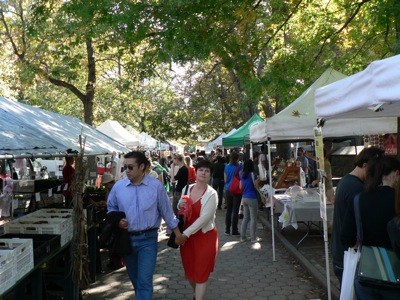 Bellies full, we rolled through Prospect Heights to our final stop, Grand Army Plaza, where Brooklyn's biggest market was bustling as usual. We settled into the grass for a long chat with Farmer Liz from Cato Corner and a delicious meal of squash soup and grilled hot dogs. I was barely hungry after all the cheese, but five hours of riding demanded a serious meal.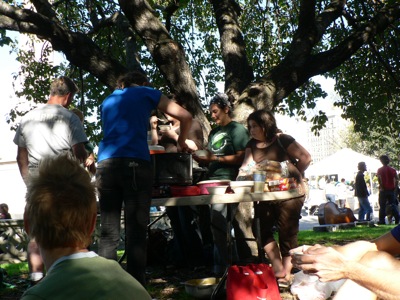 Heidi, who runs tastebuds, did a fantastic job of getting us where we needed to be on time, having people waiting at each stop to talk to us, and feeding us. It was a great way to enjoy what may have been the last warm Saturday of the year.